As Horry County nears critical vote on impact fees, how high could they be? | Horry County
Whether Horry County Council will create impact fees — and if so, how high those fees will be — should become clearer next week.
Council members have asked county staff to prepare some fee options for them to consider. Some leaders support the latest proposal, which could raise the cost of a new home in certain areas by more than $6,000. Others, however, are concerned about the effect of the fees on new commercial businesses. Yet after more than 72% of voters supported the levies in a 2018 referendum, council members said they will be hard pressed not to pass some type of impact fee.
"If Jesus Christ was on this earth right now, I don't believe you could get 70% to vote for him," Horry County Councilman Harold Worley said. "Not this day and time. So what I'm saying to you is the majority of people out there — the God-fearing taxpayers, the voters — they understand what we're talking about."   
The fee proposal council members discussed during a Thursday workshop was generated in response to the advisory referendum. If approved, the fees would be collected on new construction in the county's unincorporated areas. The idea behind them is that they can offset the cost of the infrastructure needed to support new homes and businesses.
Impact fees are considered an alternative to taxing current residents for the cost of growth. For example, to generate the same amount of money as the impact fees, the council would have to raise property taxes by 13.8 mills, which would equate to about $110.40 more per year on the tax bill of a $200,000 home. The fees are higher for the owners of businesses and second homes.
That also wouldn't include the additional $34 county residents would have to annually pay per home for the additional stormwater improvements that could be covered with impact fees.
But over the years, council members have been hesitant to support impact fees because state law severely limits how they can be used. For example, impact fees could help pay to construct a fire or police station, but they could not be spent on the salaries of firefighters or officers. That's because the levies are collected just once, while those salaries must be paid every year. Infrastructure maintenance, including road resurfacing, couldn't be covered by impact fees, either.
Despite those restrictions, the referendum results fueled a renewed interest in the fees, which council members suggested expanding to include levies for stormwater and solid waste infrastructure. Then came COVID-19. Council members slowed their pursuit of impact fees last year over concerns that any new levies would hurt the local economy as it recovered from the crisis.
Yet the growth hasn't slowed. County officials project Horry will be home to 488,000 people by 2030, up from 355,000 in 2019. They expect the county will add 230,000 people over the next two decades and will need 110,000 new homes to accommodate the population boom.
As more plans are filed for new developments — residential building permits are up 48% over last year's number — county officials remain concerned about their infrastructure keeping pace with growth.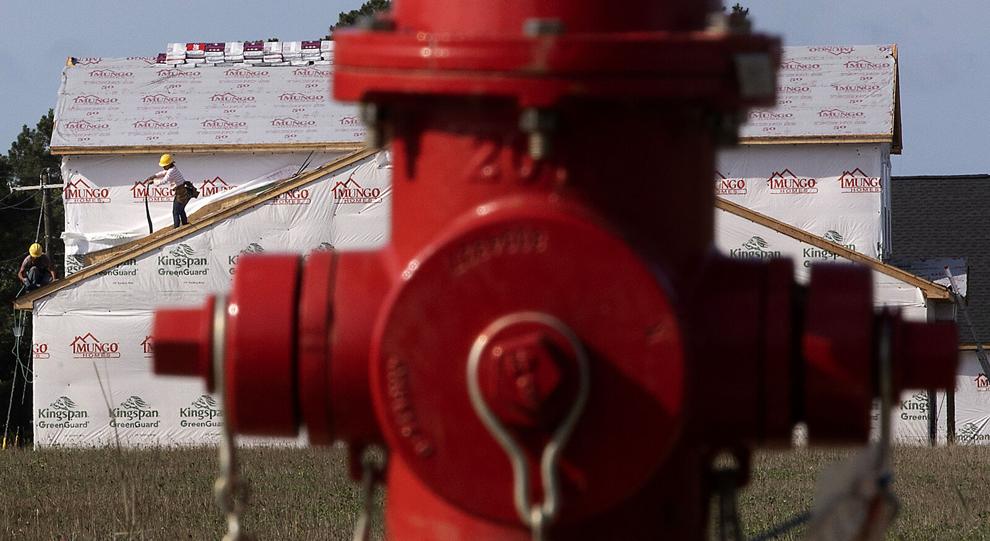 Developers push back
During Thursday's workshop, homebuilders and developers shared their concerns about the proposal.
"We're just recovering from a global health pandemic," said Steve Alger, who works for The Jackson Companies, the firm behind Ocean Lakes Family Campground, Prestwick Country Club and Sayebrook Town Center. The company is also developing a 700-acre mixed use community called Sayebrook near the intersection of S.C. 544 and U.S. 17 Bypass.
Although The Jackson Companies opposes the creation of impact fees, Alger said that if council members go that route they should be considerate of large projects already underway.
"We need to make them as reasonable and rational as possible," he said, adding that council members should be clear about when the fees would take effect. "If council were to impose potential impact fees immediately, it could both impact the commercial viability of certain projects already under existing contractual arrangements as well as prospective projects currently under planning and zoning permitting. We'd also ask council to consider a phase in of certain fees applicable to various infrastructure categories, such as transportation and solid waste."
Alger also took issue with the county's proposed impact fee for retail space. At nearly $7,500 per 1,000 square feet — not including the stormwater fees, which vary depending on location — the impact fees are "punitive," Alger said.
He pointed out that if that fee had been in place when the Target store was constructed at Sayebrook, it would have added more than $1 million to the building's price tag.
"It would have driven Target Corporation to look in another county," he said.
Jason Repak, president of the Horry Georgetown Homebuilders Association, noted that home construction already adds to county coffers through additional property taxes.
He worries the fees would affect home affordability. He said a recent study showed that for every $1,000 added to the price of a new home, nearly 460 local families are priced out of the market.
"While many of the new homes we build are quickly purchased by those migrating to our area from higher-cost-of-living regions, it's extremely important for our local population to be considered when examining additional fees to each new home," he said.
Although the development industry pushed back against the fees, there was another voice supporting them.
April O'Leary, head of the flood family advocacy group Horry County Rising, spoke in favor of creating impact fees for residential projects. Those revenues, she said, could help improve the county's outdated stormwater infrastructure.
"Certainly we recognize that we don't want to do anything that would adversely affect the business community, especially after the pandemic," she said. "As far as accommodating residential homes and new growth, we really need to diversify our investments to enhance our stormwater."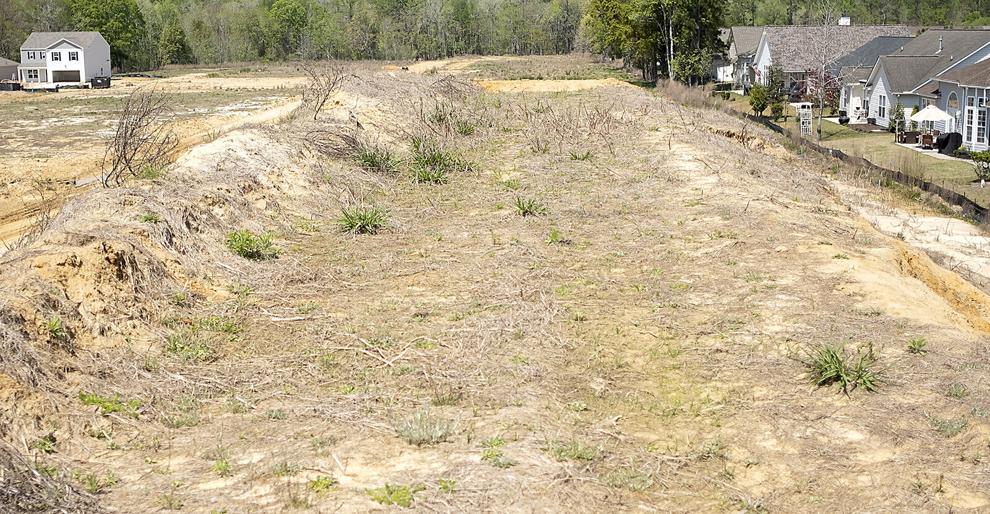 Council members weigh in
Several council members discussed lowering the rates for retail businesses.
"We've got the impact fees on businesses way high compared to the actual impact that they make on our economy and way high compared to the services that they require," councilman Johnny Vaught said. "A thousand-square-foot retail business doesn't require any more services infrastructure-wise, fire-wise, police-wise or anything else than does a home."
Vaught asked the impact fee experts hired by the county if there are ways to lower some of the fees. Their answer was that if the county did that they would have to make up the missing revenue with money from other sources to pay for the promised level of service. Another option — and the one suggested to the county — would be approving fewer projects that would need to be funded with the fee and thereby lowering the fee amount.
Vaught noted that the impact fee proposal doesn't address some of the county's existing infrastructure needs, such as widening S.C. 90. He asked the council to be cautious and not stifle business growth and new construction with steep fees.
"Most of the people on this dais were planning at looking at 'OK, what is going to fix this growth spurt?'" Vaught said. "'What is going to basically help to provide service and infrastructure needed by all this new construction that we've got?' … It's a balancing act. We've got a razor edge we've got to walk on and we need to be really careful about how we do this."
Councilman Cam Crawford echoed Vaught's concerns about the retail fees, saying high levies "could diminish investment." He asked county staff to look at reducing those rates.
"We can do better than that," he said.
Crawford fears the public doesn't understand the limits of the fees. They're not a cure-all for infrastructure needs, he said, and the county needs to manage expectations. However, he said he's not opposed to the idea.  
"Most people agree we need something in place," he said.
Councilman Gary Loftus questioned why the proposed impact fees for recreation ($814 per new home) were higher than those for public safety ($638 per home). He also wondered why the county would add infrastructure without the resources to hire additional staff.
"We don't have the money to pay the personnel to manage them, so why build them?" he asked.
Some officials discussed adopting impact fees for roads, police and fire service but perhaps not for other services. Council Chairman Johnny Gardner said council members will look at a slate of options at Tuesday's meeting.
If the council approves the maximum fees in the proposal, that would generate more than $200 million over 10 years. Most of that money ($133 million) would go to transportation projects. County officials stressed that these fees would be in addition to the RIDE road-building program and other federal and state grants. It wouldn't replace them.
"This is not a silver bullet from the standpoint that adopting this fixes everything on Highway 90," said assistant administrator Barry Spivey, referring to the road project that's estimated to cost hundreds of millions. "That's just not even possible. It has to be partnered or bundled with all of the other revenue sources that we are contemplating currently and in the future."
Limitations aside, Worley said he wants to pursue with the maximum proposed fees.
"The development community, they need to pay their fair share," he said. "And the only way to do that is through this impact fee. … I want them to continue to move forward, build homes and make money. That's great. but don't send me the bill."