Verizon (VZ) Enables Seamless Transition of Fleet Customers to 4G
Verizon Communications Inc. VZ is offering its fleet customers an opportunity for seamless transition to 4G network connectivity as the legacy 3G network is slated for sunset by the end of 2022. With Verizon Connect solution, fleet operators will be able to migrate their vehicle tracking units to a faster 4G network that boasts extended wireless network coverage, higher bandwidth and lower latency.
Verizon Connect offers customizable GPS fleet management software to effectively track vehicle locations and driver behavior like speeding, idling and harsh driving to improve fleet operations. This, in turn, helps to reduce costs for vehicle maintenance and fuel consumption, while improving dispatch, routing and visibility by proactively allocating resources for optimum utilization.
Fleet operators had historically utilized 3G devices to track vehicles that often failed to provide precise data in remote locations that lacked extensive network coverage. By migrating to the 4G networks, fleet operators have been able to identify accurate location data for faster routing facilities by deploying the closest vehicle to a customer. This has increased the profitability and service quotient of firms like Trucking – an equipment rental service provider in the oil and gas industry – and KRP Rentals, both of which have already upgraded to 4G.
Moreover, by sunsetting 3G network facilities, carriers will be able to allocate this spectrum for 4G and 5G deployment, which, in turn, will further expand the network capabilities. Notably, with the Verizon Connect Reveal app, which is exclusively available in the 4G network, customers will benefit from a new High-Fidelity Tracking feature. This asset tracking software offers a three-fold jump in the frequency of real-time vehicle location updates on the Live Map, thereby providing higher visibility of project-critical equipment.
With one of the most efficient wireless networks in the United States, Verizon continues to deploy the latest 4G LTE Advanced technologies to deliver faster peak data speeds and capacity for customers, driven by customer-focused planning, disciplined engineering and constant strategic investments. In addition, Verizon has been aggressively forging ahead to expand its fiber optics networks to support 4G LTE and upcoming 5G wireless standards as well as wireline connections.
The company remains focused on making necessary capital expenditures in order to support increased demand for network traffic. At the same time, Verizon is focusing on build-out of its 5G Ultra Wideband network, deployment of fiber assets across the country and shift toward Intelligent Edge Network architecture. In order to expand coverage and improve connectivity, Verizon acquired 161MHz of mid-band spectrum in the C-Band auction for a total consideration of $45.5 billion. These airwaves offer significant bandwidth with better propagation characteristics for optimum coverage in both rural and urban areas. Verizon reportedly secured 3,511 of the 5,684 licenses up for grabs.
The stock has lost 1.5% in the past year against the industry's growth of 8%.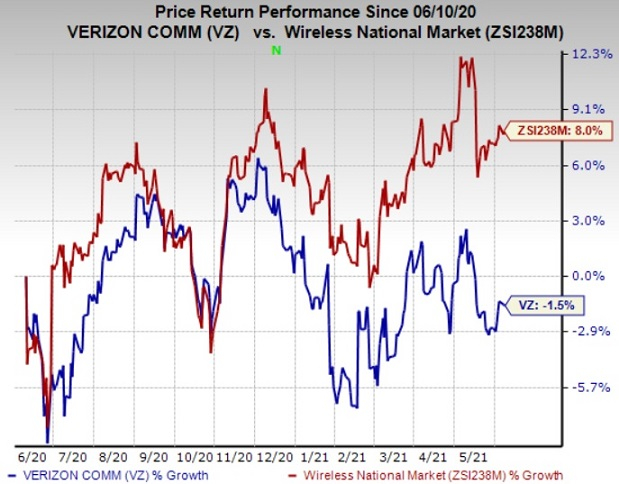 Image Source: Zacks Investment Research
We remain impressed with the inherent growth potential of this Zacks Rank #3 (Hold) stock. Some better-ranked stocks in the industry are United States Cellular Corporation USM, Cogent Communications Holdings, Inc. CCOI and ATN International, Inc. ATNI, both carrying a Zacks Rank #2 (Buy). You can see the complete list of today's Zacks #1 Rank (Strong Buy) stocks here.
U.S. Cellular delivered a trailing four-quarter earnings surprise of 123.9%, on average.
Cogent delivered a trailing four-quarter earnings surprise of 29%, on average.
ATN International delivered an earnings surprise of 424.2%, on average, in the trailing four quarters.
Infrastructure Stock Boom to Sweep America
A massive push to rebuild the crumbling U.S. infrastructure will soon be underway. It's bipartisan, urgent, and inevitable. Trillions will be spent. Fortunes will be made.
The only question is "Will you get into the right stocks early when their growth potential is greatest?"
Zacks has released a Special Report to help you do just that, and today it's free. Discover 7 special companies that look to gain the most from construction and repair to roads, bridges, and buildings, plus cargo hauling and energy transformation on an almost unimaginable scale.
Download FREE: How to Profit from Trillions on Spending for Infrastructure >>
Verizon Communications Inc. (VZ): Free Stock Analysis Report
United States Cellular Corporation (USM): Free Stock Analysis Report
ATN International, Inc. (ATNI): Free Stock Analysis Report
Cogent Communications Holdings, Inc. (CCOI): Free Stock Analysis Report
To read this article on Zacks.com click here.
The views and opinions expressed herein are the views and opinions of the author and do not necessarily reflect those of Nasdaq, Inc.