2021 Tesla Model Y vs. 2021 Volvo XC40 Recharge Comparison
Both relatively new on the scene, the 2021 Tesla Model Y and 2021 Volvo XC40 Recharge bring some style and technology at competitive prices. Here's how these electric SUVs compare.
2021 Tesla Model Y
2021 Tesla Model Y Starting Price: $51,690 | Price yours or View listings near you
Above Average: Very quick; excellent driver-assistance tech; long range; optional 7-seat capacity; over-the-air updates.
Below Average: Fit and finish; no Apple CarPlay/Android Auto integration; all touchscreen, no buttons.
Consensus: A size below the Model X, the 2021 Tesla Model Y is the electric car company's small crossover. It boasts plenty of space and excellent acceleration and handling, although there can be some issues with fit and finish.
2021 Volvo XC40 Recharge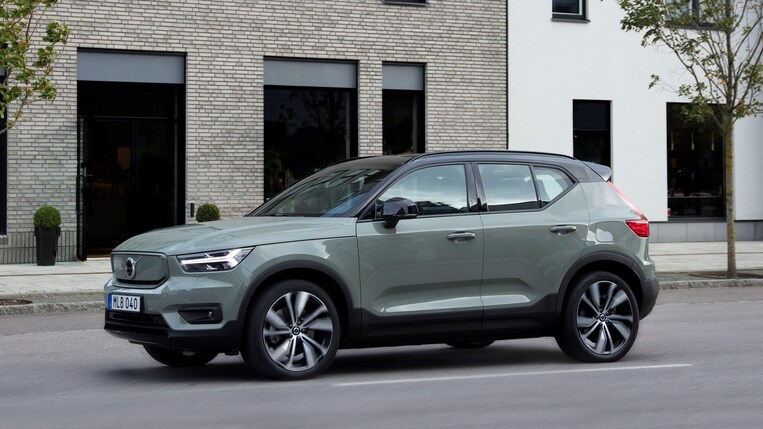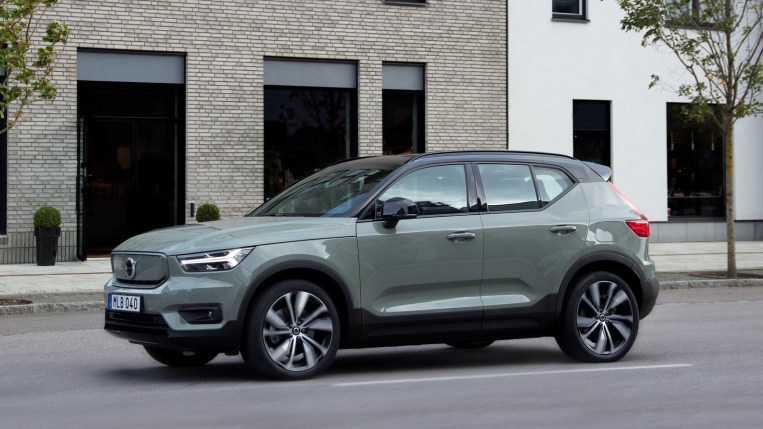 2021 Volvo XC40 Recharge Starting Price: $53,990 | Price yours or View listings near you
Above Average: Excellent safety features; distinct looks; luxurious interior.
Below Average: Complicated touchscreen; annoying shift lever design; rear foot room.
Consensus: The smallest of Volvo's crossovers, the subcompact 2021 XC40 adds a new powertrain with the all-electric 2021 Recharge. With all-wheel drive and plenty of safety features, it's definitely a Volvo, but it still has a few kinks to work out.
Model Y vs. XC40 Recharge: Small but Mighty
Tesla Model Y
The newest member of the Tesla fleet, the 2021 Model Y is the smaller brother to the Model X and is based on the platform of the Model 3 sedan. It is impressive, with extremely quick acceleration and range-topping 326 miles, well above many of its competitors. With a low center of gravity and all-wheel drive, the Model Y also exploits its power well, with confident driving and cornering as well as a few different levels of regenerative braking.
Inside, the Model Y is spacious, with seating for five or seven, although expect those seven to be cramped. It's best to stick with the two rows of seating. Cargo space with all seats folded is 68 cubic feet as well, with some storage up front where the engine would be in a gasoline-powered car. Inside, the materials are premium, although build quality is not as good as it could be.
Our test cars exhibited some poorly aligned panels as well as some squeaks and rattles. The centerpiece of the Model Y is a 15-inch touchscreen, which controls everything. There are no buttons. It should be noted that neither Apple CarPlay nor Android Auto compatibility is available in any Model Y.
Safety equipment includes forward-collision warning with automatic braking, steering assistance, and blind-spot monitoring. There are also various levels of semi-autonomous driving, including a cool feature that lets you summon the car and have it come to you in a parking lot.
Prices are competitive, although the top Performance model starts in the low $60,000s. Given that this is Model Y's second year of production, resale values are yet to be determined, although the Model S retains its value very well.
XC40 Recharge
While the Volvo XC40 subcompact crossover has been around since 2019, 2021 marks the first year of the Recharge, which adds an electric powertrain to the lineup, front and rear motors sending power to both front and back. Given its size and short wheelbase, the XC40 is quite maneuverable. An impressive 402 horsepower and 486 pound-feet of torque, combined with full-time all-wheel drive, makes it not only quick but sporty and confident when the road starts to curve. The 8.3 inches of ground clearance make it a confident all-weather performer as well.
Inside, the XC40 Recharge is relatively roomy, although the anchors for the front seats make foot room a bit tight. There are different options for storage space, with a commendable 57.5 cubic feet with all seats folded. Tech features include a 12.3-inch digital driver information display and a 9-inch touchscreen controlling audio, climate, and navigation.
As expected from Volvo, safety features are good, including lane-keeping assistance, automatic emergency braking, and blind-spot monitoring. Options include both a 360-degree camera system and a Harman Kardon audio system upgrade. As it's brand new, there's no way of predicting resale value for the Recharge.
Similarities
All-wheel drive; starting price; power; driving manners.
2021 Tesla Model Y Advantages
MPGe; range; rear seat space; cargo capacity.
2021 Volvo XC40 Recharge Advantages
Quicker charging time; Apple CarPlay/Android Auto integration; eligible for tax credits; build quality.
Which One is Right for Me?
If your big concern is range, then the 2021 Tesla Model Y and its ability to go up to 326 miles between charges is a key selling point. There's also a certain cool factor to the Tesla brand that can't be denied.
While the 2021 Volvo XC40 Recharge range is a third less than the Tesla, that 208 miles might be plenty for most people's needs. The big advantage to the Volvo is that its fit and finish and more conventional control layout are what you'd expect from a luxury make.
Ready to buy a Tesla Model Y or Volvo XC40 Recharge? Shop for one on sale now near you.
20

21 Tesla Model Y

202

1 Volvo XC40 Recharge

Popular Powertrains
Electric Motor
69/201 kW Dual AC 3-Phase
150/150 kW Dual AC Permanent Magnet
Horsepower
447 hp
402 hp
Torque
376 lb-ft
486 lb-ft
EPA Driving Range
326 miles
208 miles
EPA Fuel Economy
131 city/117 hwy MPGe
85

city/

72

hwy MPGe

Level 2 Charging Time
10 hours
8 hours
Battery pack
75 kWh Li-ion
78 kWh Li-ion
Specs
Warranty
4 years/50,000 miles
3 years/36,000 miles
Battery warranty
8 years/120,000 miles
8 years/100,000 miles
NHTSA Safety Rating
n/a
5 stars
Max Seating Capacity
5
5
Wheelbase
113.8 inches
106.4 inches
Overall Length
187.0 inches
174.2 inches
Width
75.6 inches
73.7 inches
Height
63.9 inches
65.3 inches
Turning Diameter
39.8 feet
37.4 feet
Headroom, Front
41.0 inches
39.0 inches
Headroom, Rear
39.4 inches
39.1 inches
Legroom, Front
41.8 inches
40.9 inches
Legroom, Rear
40.5 inches
36.1 inches
Shoulder Room, Front
56.4 inches
56.7 inches
Shoulder Room, Rear
54.0 inches
56.3 inches
EPA Passenger Volume
n/a
98.0 cu. ft.
Cargo Volume
68.0 cu. ft.
57.5 cu. ft.