31 Best Places To Buy Cool Art Online on a Budget
Spaces & Places is a three-week series focusing on the private and community areas we occupy, the ways we personalize them, and the meanings that we assign to them. Organized and edited by Meg Jones Wall.
---
Finding the special home decor pieces that fit your style and budget is a large task encompassing many ideas about who you are as a person and also about genres of objects: plants, rugs, lighting, art, candles, wall decals, stuff my mother would call "dust collectors" and not allow me to purchase as a child, small tables, vases (?), throw pillows, tiny shelves, etc. Today we're focusing on WALL ART, and where to find affordable pieces online and offline.
If you're on a tight budget, the main thing to remember is that you don't need to decorate your entire apartment right away. You can set aside a little bit of money each month and gradually build — especially if you have gallery wall ambitions. You can do just one patch at a time — a cute three-item arrangement that gradually grows to encompass the entire wall. Some strategies:
Mix new pieces with photos, prints and other ephemera that you already own. I've been poster-taping the same things onto and off my walls and carefully removing and re-pinning since literally the late 90s.
If you're not confident in your design skills, it can be good to stick to a theme (all black and white photography, all 19th century vibes) or a color palette. I use this website to generate a color palette and I made it the background on my laptop so that whenever I'm shopping online it's right there to access
When I buy new pieces, they tend to either: just look good with the color palette, be stuff I am drawn to in a manner that feels spiritual but important, or be stuff that is personal to me even though I didn't make it (e.g, a big-ass photograph of of the Sleeping Bear Dunes in Michigan that I visited as a kid or a collage portrait of my dear imaginary friend Joan Didion)
I'm 100% a maximalist — I like my space to be clean, organized and cohesive, but I like bright colors and busy shelves. For inspiration I follow a bunch of design accounts on instagram. Some of my favorites are wiltshire wonderland for colorful poppy interiors, perfect homess for cozy earthy layouts, Urban Jungle Bloggers for plant-focused rooms, workspace goals for office ideas, designer Home Ec and interior design publications like Vogue Living, Apartment Therapy and Elle Decor.
Where will you find your items? LET'S BEGIN.
---
Where To Buy Unique and Affordable Wall Art Online
Society 6
This is where most of my art comes from, and there can be a LOT on their site to wade through. But if you know what you're looking for — it exists at Society6. It remains the best online shop for original art from very indie artists, printed on literally anything you desire. Prices range from $15 for a mini-art print to  $167 for a framed 26 x 38. They frequently do 20% off sales and often do 30%-40% off sales, so wait for those. If you want to frame your art, I'd suggest using S6's in-house framing option as it's very challenging to find the right-size frame for their prints, which don't seem to conform to traditional frame sizes (even when they claim to!). Their app sucks.
Society6 isn't the only indie artists print-on-demand game in town. RedBubble is the other biggie. Their audience skews a bit younger and has more of a geeky vibe (vs Society6's aggressive trendiness), and RedBubble's main focus is stickers.
iamfy
An enormous marketplace for all kinds of quirky, trendy, colorful home goods, but the main event is wall art. Iamfy's focus is its "intuitive shopping app" that makes it easy to shop emerging brands right from your little pocket. It's cool. iamfy is aggressively cool. It's also aggressively affordable, but I'm not sure what that means for its artists. Their prices are fairly standard, from $15-$20 for a small print to $98-$150 for 28×40 framed prints.
Etsy
Etsy has gotten very crowded and it's not as easy to browse art in the same way you can on Society6 — there's a lot of crap in the way that appeals mostly to humans desiring custom portraits of their toddler and wooden signs that remind them to Live, Laugh and Love. I usually navigate by finding an artist I like and then checking out related stores, or searching for specific . I got a few prints from the same artist — Jazzberry Blue, who does retro-style prints in bold colors with a '70s vibe. Some of my other favorite Etsy artists are in the graphic above.
Some Indie Printers and Marketplaces
Buy Olympia's brick-and-mortar presence can be found in Portland at the Land Gallery, but their online shop is stuffed to the brim with hipster-friendly independent artists — painting, photography, screenprints, gay shit, funny infographics. Black owned-and-operated Philadelphia Print Works has prints by Black artists at incredibly reasonable prices. Signal Return is a community leterpress print shop in Detroit's Eastern Market focusing on local artists. Pop Chart specializes in infographic posters. Wolf & Badger is a London-based marketplace for sustainably and ethically produced products. Danger Prints is an Atlanta-based press.
Ripping Photos Out of Magazines and Putting Them In Frames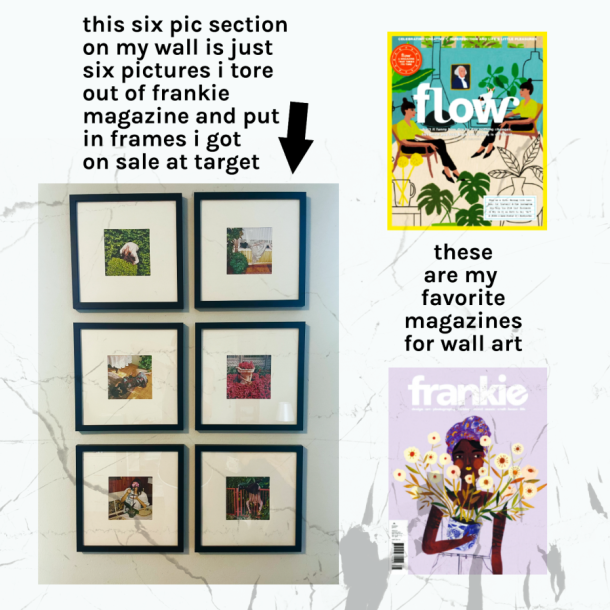 I often find wall art in magazines I've collected from the '90s or in back issues of artsy magazines like Frankie Magazine and Flow: The Magazine for Paper Lovers. (They also do periodic books for paper lovers.) The former had an ongoing column with a similar photo every month. I got a 8-pack of frames at Target on sale for $12 and stuck em in there for one of the cheapest wall decor situations I've ever experienced, pictured above.
eBay
Once upon a time I got high and bought a print of a scene from Gia starring Angelina Jolie on eBay and I have never regretted this choice. eBay's great for movie and music memorabilia and other vintage finds. Despite being an auction site, most low-ticket items can be snagged with a "buy it now."
Online Art Marketplaces
There's no shortage of websites and apps selling "art from independent artists," usually in a print-on-demand capacity — Instagram will advertise every single one of them to you if you so much as google the word "poster." Most of them are pretty similar, but here we go:
Artfully Walls: Thousands of options for beautiful, sophisticated contemporary art. Contains a wall designer and Gallery Wall sets. Currently doing a partnership with Anthropologie. Prints start at $24.The vibe is "Southampton Beach Mansion."
Minted: Limited edition art prints by independent artists. Sophisticated, West Elm, Kinfolk, muted. Starting at $24 for an unframed 5×7. The vibe is "damn this house is both very nice and very clean."
Drool Art: Bold, vibrant, super-fun illustrations and graphic design. Manages to present myriad options while also reflecting deliberate curation. Offers an "Art Finder Quiz" to match you with the best art from emerging artists to fit your space and style. Includes section of grouped prints for gallery walls. Prints tend to begin at $50, and 60%-90% of that price goes to the artists. The vibe is "open-concept loft in DUMBO."
Artfully Walls: Thousands of options for beautiful, sophisticated contemporary art. Contains a wall designer and Gallery Wall sets. Currently doing a partnership with Anthropologie. Prints start at $24.The vibe is "Southampton Beach Mansion."
20×200: With the motto "art for everyone," 20×200 aims to deliver an authentic art collecting experience for novices and experts for every budget (from $24 to $10k!), building exclusive collaborations with talented new artists and selling prints from well-known names like Dorthea Lange and Berenice Abbott. They regularly partner with libraries and museums to restore art for their Vintage Collections and have a blog and a podcast. They've got robust search features and imagery that truly runs the gamut.
Saatchi Art: The "world's leading online gallery" has classic and contemporary pieces from established artists, often at prices you and I cannot consider realistically fitting into our lifestyles.
Better Shared: Better Shared is also quite expensive, but if you can afford it, it's a great place to invest — focusing on artists from the African diaspora, Better Shared gives up to 70% of its profits to its artists.
Also… Consider Wrapping Paper?
The absolute cheapest way to get some vintage imagery on your wall is buying fancy wrapping paper from art supply stores or bookstores: the Cavallini Celestial Print is a classic (I got one at Scout, a cute shop in Royal Oak, Michigan) and I have no idea why these are considered wrapping paper? This is a print! But it cost $3!
Beyond Prints
Especially if you're doing a gallery wall, it's good to mix up your prints with flat or 3-D objects like small planters, fake taxidermy, mirrors and clocks. I found a tiny ceramic mounted deer head with gold horns at Goodwill and I tell you what it was like winning the g-damn lottery. Plants make everything look better, that's the rule. Like just put a bunch of plants everywhere honestly.
---
Where To Find Affordable Art IRL:
Creative Reuse Centers: Many cities have stores that sell used school and art supplies, mainly for teachers and kiddos, but there's plenty to be found for all. Usually there are bins of photos, prints, greeting cards, and postcards as well as super-cheap books, calendars andmags holding treasures within them. Two that I have visited and loved include Oakland's East Bay Depot for Creative Reuse (ETA: Just kidding, the East Bay Depot sucks now and you shouldn't shop there.) and The Scrap Creative Reuse Network stores in Ann Arbor, Portland, Baltimore and Richmond.
Goodwill & Other Thrift Stores: One of my favorite pieces came from my local Goodwill, which is a trove of … unique finds! You can also bid on Goodwill items online!
Flea Markets: I think the first-ever things I bought to hang on my wall came from this little postcard shop that'd set up in Union Square on Greenmarket days. Now I'm in Los Angeles and love the Melrose Trading Post! You can usually find literal buckets of old photos and postcards as well as original art.
Antique Malls and Antique Stores: Antique Malls have booths for often hundreds of vendors selling one-of-a-kind vintage items at every price point, and they exist all over this fine country, not just in cities!
---
Finally, let's talk about frames
You know how you can get a cheap-ass printer and then when it's time to ink it up, doing so costs more than the actual printer? Frames are the printer cartridges of home decor. Frames seem like such simple concepts! And yet! So expensive!
Brand new cheap frames exist at Ikea and also at the Dollar Store. Elsewhere it can be pricy!
Used frames are hit or miss, but your wallet will appreciate a solid attempt at a hit. Furthermore, after months of waiting for items to arrive, measuring them, ordering frames, etc etc — I would highly recommend just ordering pre-framed art when the option exists. When your print is of unusual size, Frame it Easy and Framebridge make custom frames and sometimes Magnetic Wood frames will also do the trick.
---
Stay tuned for Part Two when we will discuss vibes and parts of home decor that do not involve the walls!
---
Before you go! It takes funding to keep this publication by and for queer women and trans people of all genders running every day. And A+ members keep the majority of our site free for everyone. Still, 99.9% of our readers are not members. A+ membership starts at just $4/month. If you're able to, will you join A+ and keep Autostraddle here and working for everyone?
Join A+